Resource Kit Building:
Participate in a resource kit build to support our distributions. Families, churches, or buisnesses are welcome to join.
Contact Us
for more information & to reserve a date
Collection Drives:
Providing needed resources for the children/youth living in the group homes.
Hygiene Welcome Kits (Monthly)

Socks & Underwear (Monthly)

Suitcases (Monthly)

School Supplies & Back Packs (June-July)

Christmas Gifts (November)
Interested in collecting? please contact us or call us at (602)439-2171.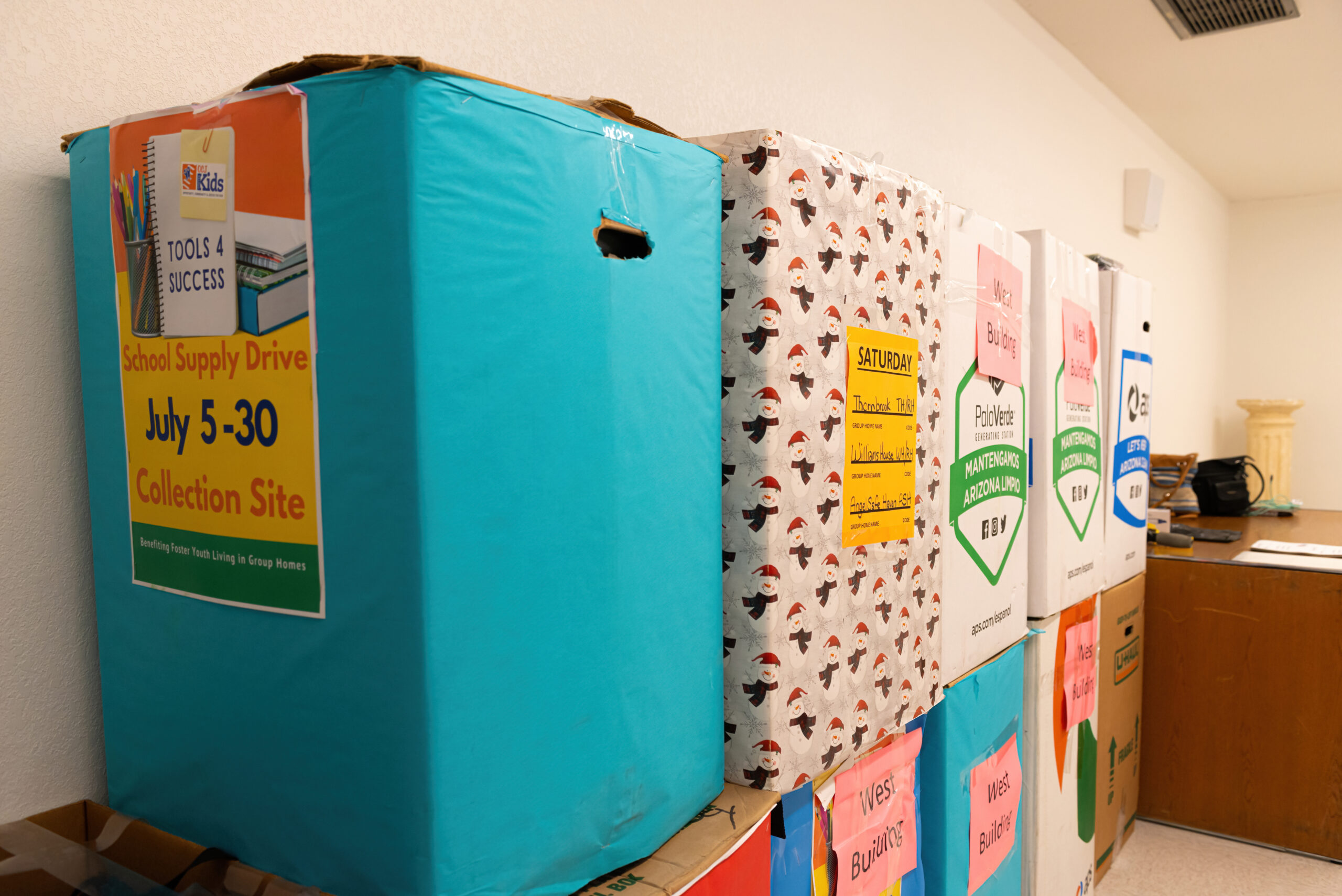 House mentors:
Training and equipping caring adults to volunteer in local foster group homes.
Training is required
Adopt a Group Home:
Churches and businesses can "

adopt

" or "

sponsor

" a local foster group home.

Community partners will connect with a local home and determine essential resources and supplies need in the home.
Resource items may include:
bath towels, bedding, house décor, hygiene, etc. Other investments may include sponsoring a home to attend an OCJ Kids event or a group field trip.
Interested? Click here to talk with us about starting your individual assessment  and Proposal
Trauma Care:
OCJ Kids offers resources for foster children and youth through our InterAct Project. These resources are made available to our partnering group home agencies at no cost to them
These kits are designed to help those effected by trauma to over come the following areas:
motor skills delays

coping skills

self-regulation

Life-Skills

Self Esteem through Social Emotional Learning

Helpful Guide for new moms
InterAct Boxes and workbooks were created by Northern Arizona University OT students
Interested in purchasing one? Let us know:
Child Welfare Partnerships
Collection Drives:
Providing needed resource to case workers and local branch offices for children and youth who are being removed from their homes, and transported to another home.
Resources may include:
Emergency Removal Kits (PJs, Diapers, Wipes)       (Monthly)
Baby Items (formula, Bottles, Etc.)                          (Monthly)
Food Gift Cards                                                        (Monthly)
Hygiene Welcome Kits                                             (Monthly)
Transport Cuddle Bags                                           (Monthly)
Socks & Underwear                                                 (Monthly)
Suitcases                                                                  (Monthly)
Adopt a Child Welfare Office:
Connecting monthly with a local Child Welfare Office to provide essential resources and supplies to care for foster children and youth during removals, processing, and placement. Each office will have different needs and different processes.
Interested? Click here to talk with us about starting your individual assessment  and Proposal
Transition Programs & Services
Making suitcases available for every foster youth aging out of the system. OCJ Kids provides one filled rolling duffle bag filled with essential and practical living resources and an empty suitcase for their personal belongings.
This program is designed to incentivize youth to call in to a volunteer or support community on a monthly basis to stay in contact with the youth, and help them on their journey into adulthood. If a youth calls in to check-in, we send them gift cards for Little Caesar's Pizza
OCJ Kids partnered with T-Mobile to offer youth aging out of foster care with a free phone with unlimited data. Youth are required to call in once a month to a trained phone mentor. Mentors collet their information and track their progress on their individual journeys.
OCJ Kids is looking for caring adults to serve as mentors for our T-Mobile Phone program. Volunteers must be available to talk with youth on a regular basis, providing them love, support, and guidance. All mentors must complete a brief training before volunteering for this program.
To learn more information about these transition programs and services, and learn how to launch these programs in your city/state, please visit the following link
OUR MISSION
Youth are amazing! They hope, dream, challenge, learn and lay the groundwork for their futures and ours.  The education, experience and family values instilled in a teen will follow them for the rest of their lives.  Every day, youth in society are exposed to unhealthy and unstable futures.
OCJ Kids' mission is to equip foster and at-risk children and youth by providing them tools, resources, and positive role models to succeed and excel in every area of life.