ONE BRIGHT STAR TOY DRIVE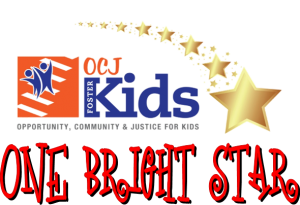 At OCJ Kids we believe that no child should miss out on the fun and magic of Christmas. As a result we partner with businesses and organizations within the community to support one One Bright Star Toy Drive.
This annual event ensures that these forgotten children get to have the same exciting and joyous holiday that so many families take for granted.
These children are invited to a fun and exciting holiday party. We always make sure that there are fun things for them to do and have great snacks to eat.
We also make sure that each of these children gets a gift with their name on it, a small but powerful way to let them know that someone cares about them personally.
How can you get involved?
Become a Collection Site
Host a collection box at your business or church and help collect gifts during the toy drive
The Drive normally goes from the week before Thanksgiving until the Week before the event.
Volunteer at one of the Christmas Parties
Prep Work-
The Wednesday, Thursday & Friday before the event –  10 am to 12 pm, 2 to 4 pm or 5 to7 pm- wrapping gifts
Location is at Santa's Workshop- 21630 N. 9th ave Suite 103
Event days
*2nd Saturday in Dec – 9am to 1 pm
*2nd Sunday in Dec– 1pm to 5:00 pm
Location will be given once you register to volunteer.
To volunteer, please sign-up here
For large groups Register here
*Weekends are scheduled to change depending on the year.  Actual dates will be posted on the registration page, when event registration is open.
Sponsor a child or house to attend the Christmas Party
Sponsor 1 or more students to help off set the cost of the event
Individual Sponsorship
Sponsor a child to attend event $10
Provide a Christmas gift $20
Business Sponsorship
Student Sponsor $25
Group Home Sponsor $250
Agency Sponsor $1,500
Corporate Sponsor $5,000
Purchase a gift
Drop off your unwrapped gift at one of our collection sites during the drive.
12 – 18 Years old Male
Greatest Need
Gift Cards
Art Kits (sketch pads, art pencils)
Basketballs
Card Games
Footballs
Handheld Video Games
Soccer Balls
Skateboards
MP-3 Players (no ipods)
Razors / Care Sets
Wallets
Clock Radios/ CD Players
Ball Pumps
Headphones
Remote control cars
12 – 18 Years old Female
Greatest Need
Gift Cards
Art Kits (sketch pads, art pencils)
Curling Irons
Jewelry
Nail Polish Sets
Hair Straighteners
MP-3 Players (no ipods)
Bath Sets
Clock Radios/ CD Players
Jewelry
Journals
Make-up Kits
Headphones
Hair Dryers
Flip Flop Slippers
Volley Balls
NO STUFFED ANIMALS PLEASE
Ages 5- 11 years Old
Seasonal Popular Toys
Barbies
Action figures
Puzzles
Cars/Trucks
Learning toys
HELP SPONSOR OUR BIG EVENTS
DONATION TO OUR CURRENT BIG EVENT
MAKE A DONATION TO IMPACT FOSTER CHILDREN
GENERAL DONATION (GOES TO HIGHEST & BEST USE INSIDE OCJ KIDS)
AZ TAX CREDIT (WILL LINK TO EXECUTIVE COUNCIL CHARITIES)
OUR MISSION
Youth are amazing! They hope, dream, challenge, learn and lay the groundwork for their futures and ours.  The education, experience and family values instilled in a teen will follow them for the rest of their lives.  Every day, youth in society are exposed to unhealthy and unstable futures.
OCJ Kids' mission is to equip foster and at-risk children and youth by providing them tools, resources, and positive role models to succeed and excel in every area of life.
ADOPT-A-BED
SPONSOR A CHILD
AT AN ORPHANAGE
COMMUNITY OUTREACH
BECOME A VALUABLE PART
OF OUR CARING TEAM
COWBOY CAMP
SEND AN ORPHAN TO COWBOY CAMP FOR
MEMORIES THAT WILL LAST A LIFETIME